Description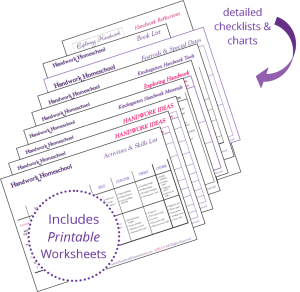 This Highlights Course includes :
7 Handwork Homeschool Highlights Video Lessons
 quick to watch & to the point, packed with useable info


 one lesson is presented every 2 days

 

re-watch as often as you like 
Printables:
Material List – build your Handwork stash bit-by-bit
Tool List – know which tools to get now & use forever
Handwork Skills Chart – know which skills are age-appropriate & why
Book List – the must-haves & the "nice-to-haves"
Festival Sheet – where to find seasonal & festive inspiration
Handwork Reflections – simple ways to bring handwork into your daily life

You'll Learn:
how to feel more confident about sharing handwork with young children
why handwork is a perfect way to prepare your child for later academic learning
fun ideas for unexpected & engaging activities
about age-appropriate skills & projects & more…


.>.
In 7 spot-on lessons, you'll learn how to share the Handwork Arts
with young children.  How to connect with them & the world around you.
If you haven't a clue where to start, I'll show you some great places !
If you are already skilled in some (or many) of the fibre arts,
you'll learn how to share Handwork with young children
– so they'll come to love working with their hands &
expressing their own creativity for the rest of their lives.
(Hint: Teaching children is NOT the same as teaching adults!)
---



** IMPORTANT DETAILS **


.
This Highlights Course includes downloadable Instructional PDFs & online access to 7 teaching videos.
Upon purchase, you will receive an email with everything you need to LOGIN to the course site (The MAKING Lessons).

Please ensure your Paypal email account is active as that is where all information will be sent!
All course content & materials which you receive is copyrighted to Handwork Homeschool & is for your personal use only.
It can not be re-distributed or used to create commercial products. Thanks!
Any questions ?  Click HERE


.